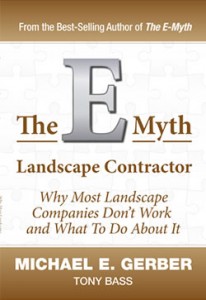 Tony Bass, founder and CEO of Super Lawn Technologies, has teamed up with the small business guru, Michael E. Gerber, to co-author a new book in the wildly popular E-Myth series.
The E-Myth Landscape Contractor: Why Most Landscape Companies Don't Work and What To Do About It  is published by Prodigy business books.
Tony Bass, co-author of the book says, "If you own a landscape company or think you would like to own a landscape company, you must read this book.  Learn exactly what it takes to win in the landscape business… regardless of what is going on in the economy."
"Landscape pros will find precise and practical systems for success. Technology is changing the rules of the landscape business. Our mission with this book is to help landscape entrepreneurs succeed beyond their wildest dreams.  My personal mission is to help you master the landscape business."
Michael E. Gerber, co-author says, "You have probably been well-prepared by your education and experience for the technical ins and outs of operating your landscape contracting company. Yet what training has prepared you to run a business? A business that works for you. A business that can work without you. The E-Myth Landscape Contractor fills this knowledge gap. Tony and I invite you to get your copy today."
Buy The E-Myth Landscape Contractor here and get a FREE AUDIO TRAINING PROGRAM with your purchase valued at $149.